All Research Sponsored By:

Centage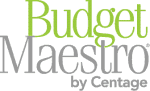 Modern financial software enables business to collaborate with visibility, reliability, and accountability in a controlled environment. This paper explains the issues with spreadsheet budgeting and helps business find better financial software for easy long-term planning.

This e-book aims to provide you with a better understanding of the nature and the source of the problems of forecasting in business. Learn how to identify and fix issues quickly, as well as the benefits you can achieve by forecasting accurately.

This white paper discusses the results of a budgeting survey aimed at discovering the most significant budgeting, forecasting, and reporting issues troubling today's CFOs.